Licensed Pest Control Experts in Seymour VIC
Let us get you 3 quotes in
Top Pest Control Experts in Seymour VIC
ABN checked
License checked
When we take money from someone to do a job we make sure that we do what we promise we have a company motto AND IT IS DILIGENCE. INTEGRITY. PROTECT IF OUR CLIENT IS NOT HAPPY WITH OUR WORK THAN WE HAVE FAILED..
ABN checked
License checked
We've been in the business for 30 years, Specializing in Pre- Purchase property Inspections and General Pest control. Contact us today for more information!
ABN checked
License checked
Pollard's Pest Control is owned and run by Mark Pollard.
12 Recommendations
Pollards pest control provided me with excellent service & was very happy. Thank you Mark.
Between 55 and 60 km from Seymour 3660
ABN checked
License checked
Do not let the name fool you. We cater for all areas of Commercial and Domestic Pest Control. Servicing throughout the Melbourne Metro and surrounding area's.
Over 13 Year's Experience
Commercial & Domestic
Fully Insured
Recommendations (12)
I was totally satisfied with the work done and would definitely recommend it to friends.
Between 70 and 75 km from Seymour 3660
ABN checked
License checked
I am an insured pest control technician who uses environmentally friendly chemicals for homes and businesses. I have been in the business for 12 years. I also provide up to 12 months of service guarantee, depending on the job.
92 Recommendations
Martina C
on 15 Apr, 2017
Very impressed with this business. Had a return message within an hour and came out the same day. Also very prompt with return text messages. Would definitely recommend!
ABN checked
License checked
CALL US TODAY ON 0478 308 361 for Pest Control across Melbourne
39 Recommendations
He was quick off the mark & the first to ring. He was very informative, telling me more about bee habits in this situation. Happy I chose him.
Between 75 and 80 km from Seymour 3660
ABN checked
License checked
We know how to protect your family, home and business!
2 Recommendations
The job was done by Adam from Pest Matic Pest Control. It was a good service, was punctual, professional and he turned up when he said he would. I'll definitely recommend them.
+3
ABN checked
License checked
Your Local TV Antenna Specialists.
Mr Antenna has become Australia's household name for the best reception solutions available. Our technicians are experienced in a wide range of Antenna and Audio Visual services.
Digital TV
Wall Mounts
Phone and Data
TV Tuning
Home Theatre
Recommendations (50)
Called for quote on Friday, booked Saturday afternoon, they arrived 8am Monday morning and done in 30mins. VERY happy with service and professionalism.
ABN checked
License checked
I will deal with your ants, spider, cockroaches, rodent and any other pest problems
Between 80 and 85 km from Seymour 3660
CONTACT US TODAY FOR A QUOTE!
2 Recommendations
I would absolutely recommend Adam. He was prompt, trustworthy, very efficient and he did a fantastic job.
ABN checked
License checked
Pest Control, Ants, Bed Bugs, Bee Removal, Birds, Cockroaches, Fleas, Possums, Preconstruction Treatments, Rodent Control, Silverfish, Spiders, Termites, Wasp Removal, Inspections - Pest
We are a family owned business with years of experience in pest control and pest management programs.
41 Recommendations
Highly recommend. Excellent manners, communication, reliability and service. Would happily use again.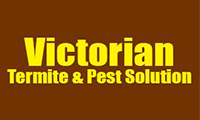 ABN checked
License checked
Contact us today for more information.
6 Years Experience.
Fully Insured.
Fully Qualified.
Australian Owned.
Family Run and Operated.
Quality Work Guaranteed.
ABN checked
License checked
Australian Owned, Servicing Melbourne, East Coast Victoria, Mornington Peninsula. Servicing Victoria since 1985. Specialist Termite & Pest Controllers. Fully Licenced. Fully Insured. Over 30 Year experience.
8 Recommendations
A very polite and courteous gentleman spent time to explain everything about pest control and my particular insect problem. I dealt with 3 different people from this company and I was very impressed with every one of them. I can't comment on their actual pest control business, but their pre-service was exemplary.
Browse the local directory for Pest Control in States and Capital Cities