Hire Oven Repair Specialists in Wollongong NSW
Let us get you 3 quotes in
Top Oven Repair Specialists in Wollongong NSW
ABN checked
License checked
Chaz Be Cool has more than 20 years of experience. Established in 1990, we continue to supply our customers with the best and the latest cutting edge products.
1 Recommendation
I have hired Chaz to work at my clients home renovation project. Chas was friendly, courteous, on time and reliable. He installed the cabling and machines for 3 x new air conditioning units. He was friendly, courteous efficient and work area was very tidy and clean. Professional and knowledgeable.
ABN checked
License checked
We pride ourselves on quality and customer satisfaction.
3 Recommendations
The work was very well priced with what we wanted done and we were really happy with it.
ABN checked
License checked
ONE PLACE FOR ALL PLUMBING NEEDS
18 Recommendations
Silva Plumbing Service were professional, punctual, and friendly. They fixed the job according to what we wanted.
ABN checked
License checked
With over 24 YEARS experience in the Electrician Industry. Contact Dave now for a FREE QUOTE on 0418 111 321
5 Recommendations
Very good. He came and fixed my oven really quick. No problems at all. Reasonable price too.
With over 15 years experience we have a vast knowledge on most products and brands, from all around the world. We also know and understand that your kitchen is the centrepeice of your home and have upmost respect to protect it...
37 Recommendations
Frank was friendly and professional and had the oven working again in no time.
South Coast Appliance Spares has been the leading supplier of appliance parts in the Illawarra for many years.
4 Recommendations
Jessie from South Coast Appliance Spares fixed my oven quickly, easily and for a good price I would definitely recommend his work to others.
Between 5 and 10 km from Wollongong 2500
ABN checked
License checked
Bobby's Electrical Pty Ltd - need an honest, reliable Electrician call Bobby - "No Job Too Big or Small"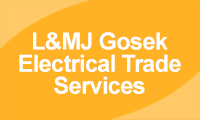 ABN checked
License checked
We offer electrical trade services in domestic, commercial and industrial applications. As a small operator we offer competitive rates and personalised service. We are fully insured and licensed, with over 15 years experience...
Friendly & Reliable
Prompt Service
Fully Qualified
Over 20 yrs Experience
Competitive prices
Recommendations (9)
Michelle R
on 20 Apr, 2017
The work was excellent and Matt from L&MJ Gosek Electrical Trade Services was good.
Between 20 and 25 km from Wollongong 2500
Bob is extremely experienced in all aspects of domestic appliance repairs with over 35 years in the industry. 
Between 45 and 50 km from Wollongong 2500
People you can trust
10 Recommendations
AWR Appliances were prompt in their reply and helpful in giving me other options. The ovens working well.
ABN checked
License checked
I am a sole trader who has been in business for 15 years. I provide services for commercial and residential clients. I offer fair quotes and lifetime service warranties.
23 Recommendations
Great service. Contacted me very soon after I placed the ad and was able to do the job on very short notice. Tidied up after and great value for money.
Between 50 and 55 km from Wollongong 2500
Ovens & Range Hoods, Clothes Dryers, Dishwashers, Heaters, Hot Water Systems, Microwaves, Refrigerators, Stoves & Cooktops, Washing Machines
33 Recommendations
Mcappliancerepairs repair charge was acceptable and we'll likely do business again.
Between 55 and 60 km from Wollongong 2500
SERVICE & REPAIRS24 HOUR EMERGENCY SERVICE
9 Recommendations
Shane contacted me quickly, arrived between the hours agreed and fixed the clothes dryer quickly. Great job. Thanks Shane.
ABN checked
License checked
TO PROVIDE AN EXCELLENT ELECTRICAL SERVICE TO OUR CLIENTS
2 Recommendations
McGregor Electrical & Communications did the electrical data cabling and I found him very helpful.
Browse the local directory for Oven Repairs in States and Capital Cities