Advantages of Glass Pool Fencing
Last Updated Oct 31, 2014 · Written by Rob Schneider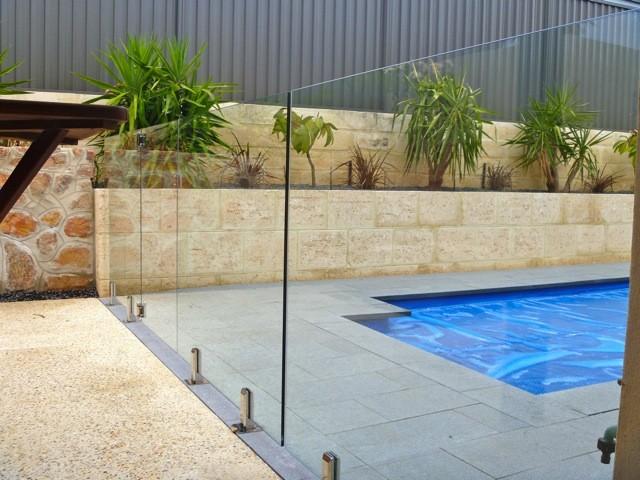 ©Premium Colour Gates
Why Go Glass
One of the advantages of glass pool fencing is that it gives you a completely unobstructed view. Because the glass panels are made of modern toughened safety glass, they can be very wide and only need to be fixed from their bases. This gives the entire fence a sleek, sophisticated look without sacrificing strength or security.
The secret to glass pool fencing is in the fittings. There are three methods of fixing glass panels securely from their bases:
Channel Fixing: While the pool is being built, channels are built into the concrete surrounding the pool. Then the glass panels are placed in the channels and grouted into place.
Standoff Fixing: a type of hardware that holds the glass away from a vertical surface such as the side of a flight of stairs, a balcony or a deck. It is rarely used as pool fencing unless it is for an "infinite" pool that is built against a wall.
Spigot Fixing: a fitting that is first fixed to the ground. Then the glass is secured to specially designed marine grade stainless steel "spigots." This type of fitting is ideal because it "floats" the glass about 50mm off of the ground, eliminating dirt and debris buildup and the accumulation of dirt on the bottom of the glass.

What the Experts Say
Glass FX is a Sydney based company that specialises in nothing but glass pool fencing. They recommend spigot fixings whenever possible. Glass FX offers an exclusive Magna Hinge closing system for glass doors. These self-closing hinges close softly and securely and their stylish minimalist design complements a frameless glass pool fence perfectly.