Everything you need to know about finding a Cleaner
Domestic Cleaning Services
Domestic cleaning services are most often used to perform cleaning tasks around the home but can also be used to clean houses after they have been renovated or built, when a more thorough clean is required. They are also available for tenant inspections, if you are leaving a property or when you need a thorough cleaning of an empty house.
Domestic cleaners can complete a variety of tasks including, but not limited to: vacuuming and mopping floors; cleaning wet areas and kitchens; domestic tasks such as polishing furniture and ironing clothes; cleaning windows; and cleaning appliances.
When used for cleaning up after a renovation or the building of a new property, they are able to thoroughly clean the building inside and out and also remove any leftover building debris. Many builders will provide a cleaning service at the end of a major renovation or building project.
Pressure Cleaning
Pressure cleaning
can be used to clean a variety of surfaces including pavers, concrete, verandahs, paintwork, roofs, brickwork, windows, stairwells and driveways. The major benefit of using pressure cleaning over more traditional cleaning methods is that pressure cleaning uses significantly less water, chemicals and cleaning agents.
Please refer to Pressure Cleaning for more information.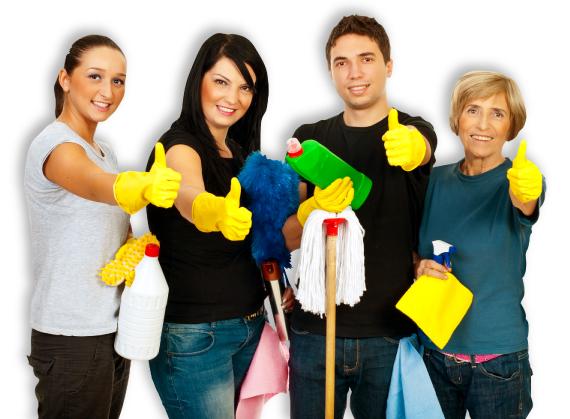 ©Sydney City Cleaners
Window Cleaning
Clean glass means that more light and heat will enter your home, saving you money on your winter heating and lighting bills. Window cleaners are able to clean all window and glass surfaces in your home, including windows, mirrors, showers, pool fences, glass topped atriums, skylights and so forth.
The professional should not only clean the glass, but also clean flyscreens, window sills and window tracks if necessary. Many professionals also provide a cobweb removal service. Professionals are fully trained in ladder safety.
Hiring a House Cleaner
As the cleaning service you select will have access to your house, it is important that you feel confident in the security they provide and also their trustworthiness. Talk to the company or the cleaner before you hire a professional and ensure that you are comfortable with whom you select. The professional should also be thoroughly vetted by the cleaning company that they are associated with and a company that offers a security guarantee will give you greater peace of mind. Window cleaners should also have insurance.
Also make sure that the company or professional that you choose to use offers a warranty with regards to the quality of services performed.
How Much Do Cleaners Cost?
Domestic cleaners charge based on their time, with rates anywhere from $25 to $45 an hour, depending on where you live. The size of your house and what specific tasks you want done will determine how long they need to spend on your job. Cleaners will typically spend a couple of hours in your home and can visit on a schedule that suits you - fortnightly for example. Specialised tasks such as steam cleaning will typically cost more.