Sauna King offers service to builders
Thursday March 10, 2011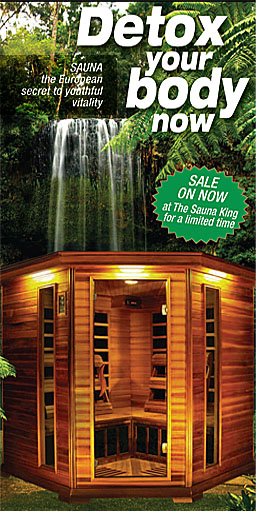 The Sauna King has a brand new location at 1168 South Road, Clovelly Park where the owner Ian Groom can help with your sauna requirements.
Ian has traditional kit saunas, far infrared saunas and steam sauna equipment. Arriving soon are a new range of combination Shower/Infrared sauna/ Steam cabins that can be placed in the bathroom area to set new standards of decor in the wet area of a home.
Ian says this concept is becoming popular in Europe and America, because of its space saving and convenience to the user which enables them to be able to switch over from the cleansing property of steam and infrared sauna straight into a cool down shower afterwards. These cubicles have built in seating, radio, light and massage spray shower heads.
If a home requires a steam room to be built in, Sauna King can assist with the design and supply of all the equipment including full glass doors and frames, steam generators and control systems.
The Sauna King can help a builder when there is a requirement for a built in sauna. Sauna King will quote off plan for the supply of equipment and timber, usually Western Red Cedar timbers prefinished specially for sauna use for a carpenter to build the sauna room. The Sauna King will provided the right size heater and will advise on power and plumbing requirement. Saunas can be made to size to suit all requirements.
......................................................................
Benefits of a sauna from The Sauna King include:
Burn Calories and Control Weight
Improve the Immune System
Increase Blood Circulation
Strengthen the Cardiovascular System
Remove Toxins and Mineral Waste
Reduce Cellulite and Improve Skin Condition
Ease Joint Pain and Stiffness
Reduce Stress and Fatigue
Fill in our enquiry form today for more information on how a sauna from The Sauna King can benefit you.