We are a leadlight studio who services ALL areas of Adelaide and country South Australia.
My father established himself as a leadlighter back in 1979 and we have been working as a family business for the past 14 years. We have an extensive range of leadlight windows to choose from and two "in house" designers who can help with the design of custom leadlight windows. We make strong durable panels that should out see my grand children, and have made leadlight windows for many famous South Australian personalities.
We are experts in repairs and restoration of old leadlight windows, with one of Australia's largest stocks of old "hard-to-find" glass there is not much that we can't fix. This is also handy for matching existing work if you want to keep a theme going in your home.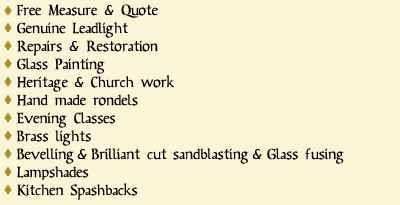 Student Classes
Leadlight courses are a great way to meet new people and express yourself creatively. You can make all sorts of things in our courses including lampshades, sun catchers, genuine leadlight windows and more. You will be taught every aspect of making and constructing panels to the use of bevel clusters, hand painted pieces, rondels and much more.
We run an intensive six week beginners course in which you will receive a FULL tool kit and materials for TWO projects. You will make a small leadlight panel and a copper foil sun catcher. After the six weeks you can go on in an advanced class and make panels for your self, friends and family.
All of our students receive a minimum 10% discount on materials and are eligable for super specials that are run from time to time. You do not have to be artisticly minded as we have heaps of designs and books for you to look through. We have a design/drawing facility for students to use.
So why don't you come along to one of Adelaides most experienced leadlight studios and learn something that you can take with you the rest of your life and be comfortable with the fact that your art works will last for your grandchildren to enjoy!
Drop into our studio
90 Bower Rd
Semaphore Park
Adelaide
Open Monday to Friday 9am to 5pm
Saturday 9 am to 12 pm