How Much Does a Pool Cost?
Last Updated Mar 12, 2015 · Written by Kat Tate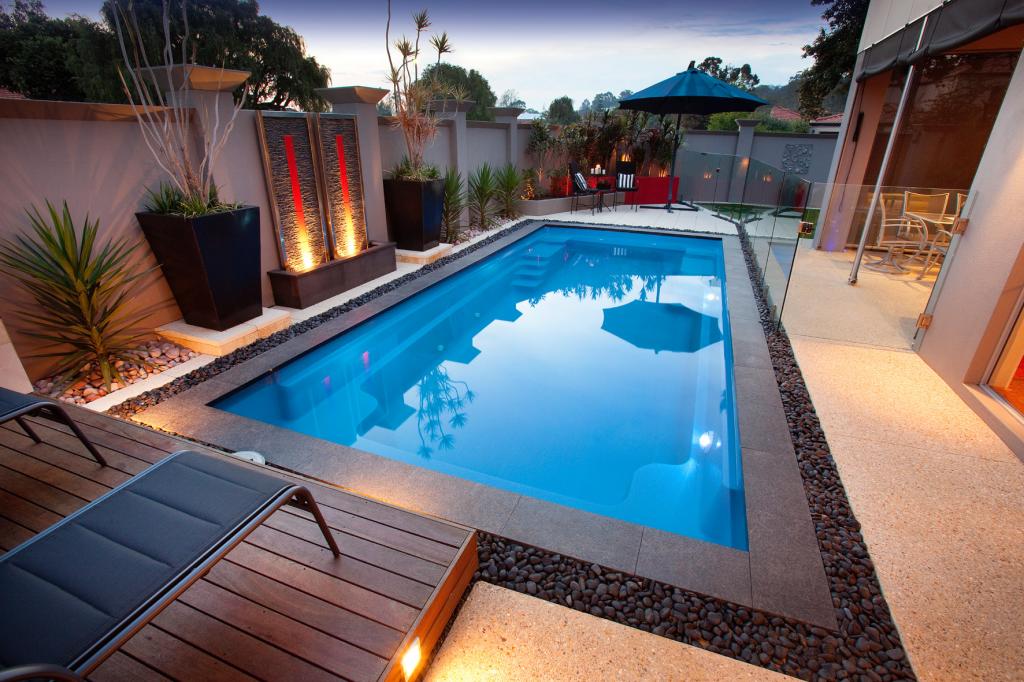 ©Sapphire Pools
Inground Swimming Pools
In ground swimming pools are the most expensive pools to install largely because of excavation costs. The two most common types of inground swimming pools are concrete and fibreglass. According to installers of these types of pools:
Concrete pools cost between $35,000 to over $100,000 to install, with the average being around $50,000
Fibreglass pool shells cost between $6500 and $25,000
To have a fibreglass pool installed in-ground costs between $25,000 and $75,000 or more
The difference in price between a fibreglass pool shell and having the pool installed can be accounted for by the excavation work and the cost of a pump, heater and other necessary accessories.
Above Ground Swimming Pools
Above ground swimming pools are less expensive than inground swimming pools, but you need to factor in all the costs associated with them. DIY kits made from resin shells with vinyl liners start at around $3500 and go up to $6500 or more. Timber decking will increase the price a further $1500 to $2000 and if excavation is required, it can cost another $2500, depending on the amount of excavation needed. If you're installing a larger above ground pool, you may also need to have a concrete slab poured.
When comparing prices of inground fibreglass pool or above ground pool kits, make sure everything is included in the kit price. For example, a fibreglass pool shell alone may cost around $7000, but a complete kit that includes a pool pump, filter, and other accessories might cost $9000. You may also need to buy a pool heater, which will add to the cost.
Other Costs
You will need council approval and pool fencing if you want to install a swimming pool in most parts of Australia. If you install an inground swimming pool, you will need paving around the pool and if it's an above ground pool, you will probably want to install a deck around the pool. Together, these costs can add thousands of dollars to the total cost.
In most cases, it's better to get quotes from pool suppliers for complete pool packages. That way you know upfront what all your costs are going to be. Compare all your quotes carefully. If they are complete quotes and come with long-term warranties, the cheapest quote may be the best buy, but don't settle for an inferior quality pool. A swimming pool is a significant investment and a pool that lasts is a better investment than a pool that will need replacing within a few years.
*Cost and prices in this article are indicative and should only be used as a guide. They also vary locally and are subject to market forces.
Image courtesy of Acquavita Pools & Spas.