Ask any retaining wall specialist, "How much is my retaining wall going to cost?" and they will probably answer: "I can't tell you a price until I've inspected your site." They're not being intentionally vague in order to get a foot in your door. Materials costs per square metre are the least of their concerns. Land contours, soil conditions and other factors contribute significantly to the cost of a
retaining wall
. However, if you're contemplating building a retaining wall, but want to get an idea of its cost before you start getting quotes, there are some things you can do.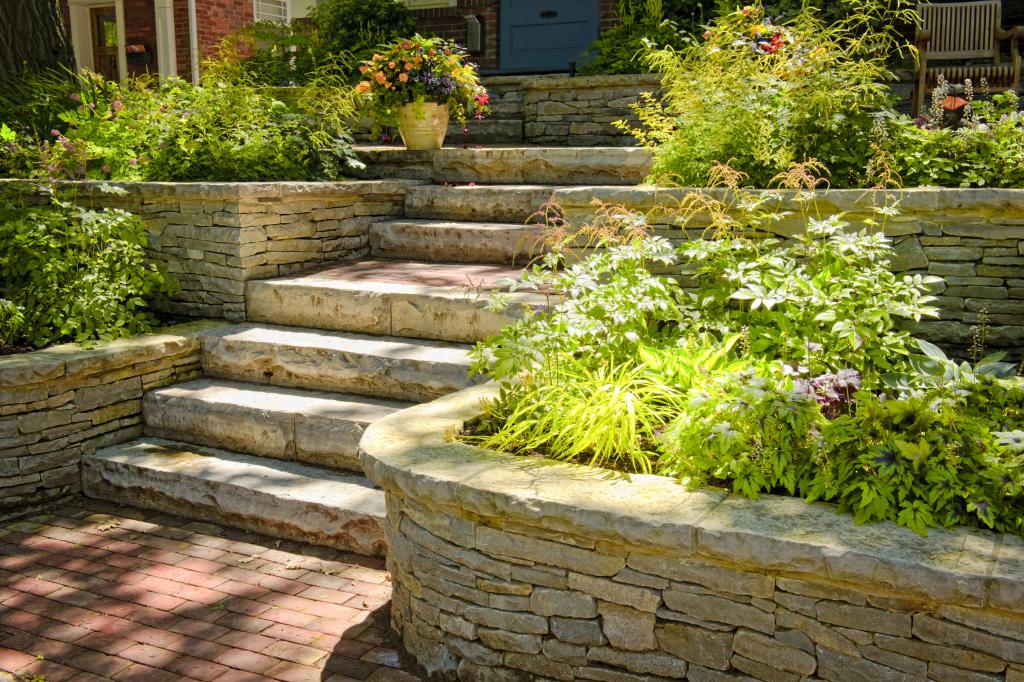 ©Turf It Artificial Lawns & Landscaping
Costing Your Retaining Wall Project
While
retaining wall materials
costs will be just one consideration, they are a good place to start costing your project:
Use pegs and a string to lay out your retaining wall.
Measure its length.
Determine the approximate height of the retaining wall.
Multiply the length by the height to determine the square metres of materials you need.
Aside from determining your square metres of building materials, you will also have discovered some other important things about your retaining wall costs:
If the height of your wall approaches 1 metre, assume you may need to employ a structural engineer. Throughout Australia, the services of a structural engineer are required by law for all retaining walls over a metre in height.

If your retaining wall is less than 1/5 metres away from your house, garage or other building, you will probably need council approval to build it, no matter how high it is.
If your retaining wall is going to be substantially less than a metre in height and is located well away from the house, your materials will be a big part of the cost of the project. A relatively simple retaining wall can be a viable DIY project, too, so you may want to read
How to Build a Retaining Wall
here on hipages.com.au for an overview of the process. Does it sound like a project you want to tackle? If so, now is the time to choose your materials.
Retaining Wall Materials
Some of the retaining wall materials you have to choose from include:
Timber: Treated pine, treated hardwood and railway sleepers are most typically used.
Concrete: Aside from poured concrete, you have standard concrete blocks and concrete bricks to choose from.
Brick is a perennial favourite. If you've had a little bricklaying experience and your wall is not too high, you may be able to get good results. If your results are less than perfect, you can always render the bricks after you're done.
Natural stone boulders make great retaining walls. Expect it to be more than a quick weekend project, though, because part of the art of stacking boulders is finding the perfect fit. That takes time.
Today, retaining wall systems are available that are ideal for a DIY retaining wall project.
When comparing the prices of materials, bear in mind that some materials last longer than others. Timber, for example, is less expensive than some other materials, but doesn't last as long.
Finding a Retaining Wall Builder
Depending on where you live and the scale of your retaining wall, you may well need to use a licensed
retaining wall builder
and
structural engineer
. Licensed trades are appropriately qualified, will be covered by the required insurance and help your project to conform to the required standards. Visit our handy
trade licensing
page for everything you need to know where you live.
Simply fill out the form on our
Get Quotes from Retaining Wall Builders
page in as much detail as possible and get three quotes from builders in your area. While a site inspection will probably still be necessary, if you give the builders as many details about the project as possible, they will be better able to give you accurate online quotes.