What is the Cost of a Kitchen Renovation?
Last Updated Apr 7, 2015 · Written by Rob Schneider
Kitchen Renovation|Renovation Costs
Most
new kitchen manufacturers
offer free measures and quotes, so costing your kitchen renovation should be easy, right? Yes, getting quotes is easy, but getting the kitchen you want and staying within your budget is a little harder. Two kitchens can take up the same amount of floor space, but one renovation might cost $10,000 more than the other. What's the difference between the two? It's in the materials and inclusions.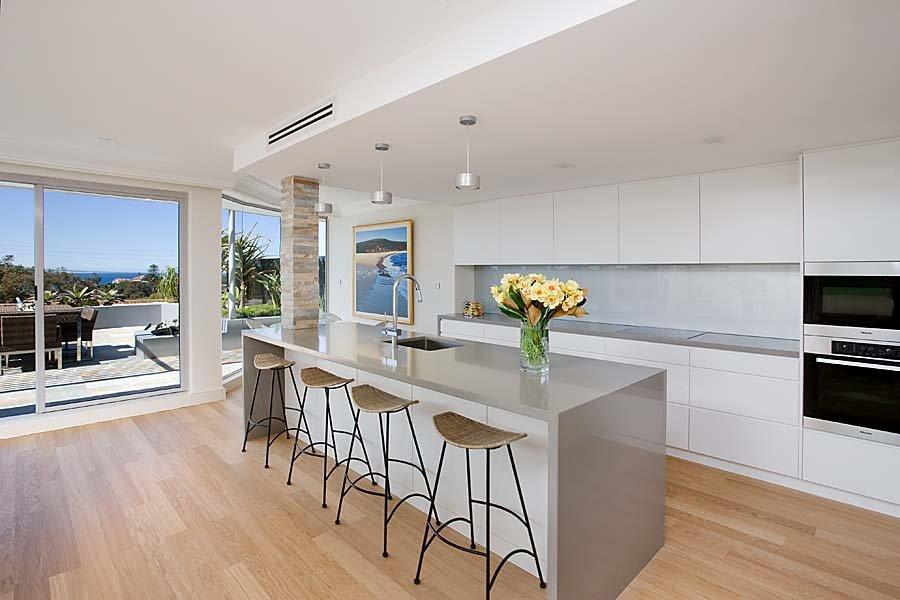 ©Pete Interiors
Average Cost of a Kitchen Renovation*
Assuming a new kitchen includes all new appliances, plumbing and electrical installation, tiling and installation, the average costs are:
$22,000 for a budget kitchen
$34,000 for a luxurious kitchen
$40,000 for a high-end kitchen
"But I know someone who had their kitchen renovated for only $10,000." Yes, the averages can be deceiving. Smaller kitchens cost much less than larger kitchens and many home and apartment owners choose to keep their existing appliances. This alone can save thousands of dollars. The averages are helpful, though, as indicators of the price spread. The trick to getting quotes is in choosing materials and other inclusions that can give you a luxurious kitchen for a budget kitchen price.
Choosing Materials for Your Kitchen Renovation
The visual components of a kitchen make a big difference to its cost. Kitchen benchtops, for example, range from inexpensive laminate to stainless steel, one of the most expensive benchtops you can buy. Similarly, the cheapest cupboard doors you can buy are melamine doors. At the other end of the scale, gloss white 2 pack polyurethane doors can easily cost four times as much as white melamine doors. What do you do if you have a stainless steel and polyurethane sense of style, but your budget won't allow it? There are many options between the least expensive and most expensive materials to choose from:
Check out the designer ranges of laminates for a chic alternative to stainless steel. There are stainless steel look-alike laminates, but for a hard-wearing benchtop that will still look great after it's been used and abused, look for textured and/or patterned laminates.
Do you like the rolled edges and glossy appearance of polyurethane, but not the price? Vinyl wrapped (also called thermo-formed) doors are almost indistinguishable from 2 pack polyurethane, but at a fraction of the cost.
The same principle applies to any other benchtop or door front material on the market. If you like the granite look but not the granite price, consider a granite-look laminate. If that is not to your liking, check out the ranges of engineered stone (or quartz) benchtops that are on the market today. As solid and durable as natural stone (some argue more durable), engineered stone costs less and has a distinctive uniform appearance many kitchen designers prefer to natural marble or granite.
Where Quality Counts
The one place you don't want to cut corners is in the quality of construction of your kitchen renovation. Almost all kitchen cabinets are constructed from water-resistant, melamine surfaced MDF (medium density fibreboard). This is the least you should expect in either a custom or flat pack kitchen. Ideally, the backs of the cabinets should be sturdier than the 6mm vinyl covered backing used on some cheaper kitchens, but where you will really notice a difference is in the quality of the drawer construction:
The cheapest drawers have flimsy bottoms that are built in to grooves along the bottom edges of melamine or vinyl wrapped drawer sides. They inevitably buckle and break under even a moderate load.
Better drawers are solidly constructed and fitted with quality drawer runners.
The best quality drawers are metal-sided drawer systems.
Most door hinges look very much alike, but can differ dramatically in quality. If you've ever had kitchen doors that sag and bind, you've had inferior hinges. Most kitchen companies will be more than happy to offer you quality hinges if they don't come as a standard feature. You will have to pay a little more for them, but they are good value for money and won't break the bank.
Is a Flat Pack Kitchen Right for You?
A big part of the cost of a kitchen renovation is installation. If you're handy, you can slash your installation costs by buying
a flatpack kitchen
and installing it yourself. You can put the cabinets together using common household tools and installing them is not too difficult for two people with reasonable DIY handyman skills. You will need to hire an electrician and a plumber, but if you install your sink, dishwasher and appliances in the same places they were before, the cost of the tradies will be less expensive.
If you want professional installation,
get quotes
from kitchen renovation companies. Their prices can vary significantly. Just be sure you're getting the same level of quality and are buying from a well-established, reputable company. If everything else is equal, you can confidently choose the lowest quote.
*Cost and prices in this article are indicative and should only be used as a guide. They also vary locally and are subject to market forces. This article was updated 02 April 2015 to reflect current market pricing.